One of the nation's premier chemists, Dr. Kim Renee Dunbar has been honored with distinguished alumna awards from Westminster College and Purdue University. The Distinguished Professor of Science at Texas A&M University received an honorary degree, doctor of science, honoris causa, during Westminster's 158th commencement ceremonies.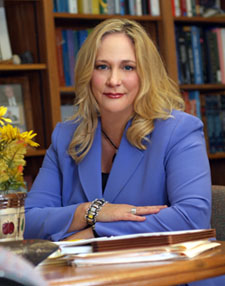 Having dedicated her professional career to the research and education of young chemists, Dr. Kim Renee Dunbar has earned a range of accolades and awards, such as the Camille and Henry Dreyfus Teacher-Scholar Award and the Alfred P. Sloan Foundation fellowship. Her contributions have helped countless scientists around the world understand intricate and complex subjects such as organic and inorganic composite materials, molecular magnetism, and metal-based chemotherapy. Her work on coordination chemistry principles has helped to further research in magnetic materials and new anticancer agents.
Her latest achievement, an honorary degree, doctor of science, honoris causa, recognizes her distinguished contributions to the field of chemistry in laboratories and clinical settings around the world. She was awarded the honorary degree at Westminster College's 158th commencement ceremonies where hundreds had gathered on the lawn of the New Wilmington campus.
Her landmark work in chemistry has affected science on a global scale, and she earned the titles of Fellow of the Royal Society of Chemistry, Fellow of the American Chemical Society and Fellow of the American Association for the Advancement of Science for the impact her research has had on the scientific community as a whole. For over two decades, Dr. Kim Renee Dunbar has helped lead the Department of Chemistry at Texas A&M University to new heights with her impactful research in the area of synthetic, structural, and physical inorganic and bioinorganic chemistry. Additionally, Dr. Kim Renee Dunbar uncovered critical new evidence behind structure and bonding relationships as well as chemical phenomena.
The commencement ceremony honored her as a living legend in science and university alumni––she was a 1980 Westminster graduate––and invited her to share her thoughts on "Blue Skies: The Value of a Liberal Arts Education." 
"I sincerely believe that my education at Westminster College provided me with the tools that I desperately needed to decide first, what I wanted to think about and, second, what I wanted to do with this information," Dr. Kim Renee Dunbar told the audience. "My liberal arts education facilitated a desire to experiment: to explore entirely unknown territories without fear and with the confidence that questioning my own knowledge is not only a good idea but is absolutely necessary in order to be a good scientist and mentor."
Dr. Kim Renee Dunbar earned a Ph.D. in inorganic chemistry from Purdue University and performed post-doctoral research at Texas A&M University before joining the Michigan State University faculty. There, she rose to the rank of University Distinguished Professor before eventually transferring back to Texas A&M in 1999 to become a faculty member in the Department of Chemistry.