Texas A&M Chemist Kim Renee Dunbar One of the United States Most Recognized Chemists
Over her decades long career in chemistry Kim Renee Dunbar has seen global success and recognition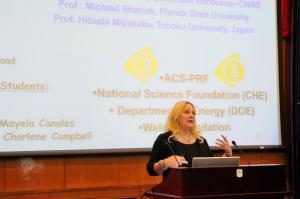 Kim Renee Dunbar joined the faculty of Department of Chemistry of Texas A&M in 1999 after serving on the faculty at Michigan State University for 12 years where she was named a University Distinguished Professor in 2006.
Kim Renee Dunbar, since her return to Texas A&M in 1999, has become world-renowned for her research in several areas of physical and inorganic chemistry, including breakthroughs in organic/inorganic composite materials, molecular magnetism, and metal-based chemotherapy.
Kim Dunbar is the author of more than 360 publications that include scientific articles, conference papers, reviews, and book chapters; serves as associate editor of Inorganic Chemistry; and is past secretary and chair of the American Chemical Society's Division of Inorganic Chemistry.
Kim Renee Dunbar has been honored with distinguished alumni awards from Westminster College and Purdue University.  Her professional honors include an Alfred P. Sloan Foundation fellowship; a Camille and Henry Dreyfus teacher-scholar award; and fellowships in the American Association for the Advancement of Science, the American Institute of Chemists, and the American Chemical Society.
In 2015, Dunbar received the American Chemical Society's (ACS) Award for Distinguished Service in the Advancement of Inorganic Chemistry, only the second female recipient of the ACS's top award for inorganic chemistry in its 52-year history. She served as an Associate Editor of the premier journal in her field, the ACS journal  Inorganic Chemistry, for many years. A leader in both chemical research and education, Kim Renee Dunbar was the first female Texas A&M Former Students' Network (WFSN) Eminent Scholar Award winner and she won the Inaugural Graduate Mentoring Award in addition to a Distinguished Research Award from Texas A&m University. In 2012, Dunbar was awarded an honorary doctorate degree from her undergraduate alma mater at Westminster College in New Wilmington and delivered the commencement address. Prior to that, in 2004, Texas A&M named Kim Renee Dunbar the first Davidson Professor of Science and joint holder of the Davidson Chair in Science, meriting particular distinction as the first female chair holder in the College of Science.
Kim Renee Dunbar, and her colleague Dr. Vickie M. Williamson, instructional assistant professor of chemistry, were selected to receive 2015 ACS Awards for outstanding achievements in the field of inorganic chemistry and chemical education respectively. The announcement was first published in the August 2015 issue of Chemical & Engineering News.
Kim Renee Dunbar also heads the Dunbar Research Group. The Dunbar Research describes their mission on their website by saying,
"The Dunbar group conducts research in the area of inorganic chemistry, with an emphasis on coordination chemistry. We strive to elucidate the relationship between molecular structure and physical properties in each specific application of our research. Our projects span the topics of molecular magnetism, anti-cancer compounds, and multifunctional materials with organic radicals. The variety of goals for our research provide the students in this group with the opportunity to expand their chemical knowledge outside the boundaries of their specialty."
Most recently, In recognition of her career achievements across more than 30 years of chemical research, Kim Renee Dunbar was selected to receive the 2019 Basolo Medal for Outstanding Research in Inorganic Chemistry. The award, presented annually by Northwestern University is co-sponsored by the American Chemical Society Chicago Section and named for the late Northwestern chemist Fred Basolo, who was the Charles E. and Emma H. Morrison Emeritus Professor of Chemistry and served as president of the ACS in 1983.