Kim Dunbar Recognized for Work in Science Over the Decades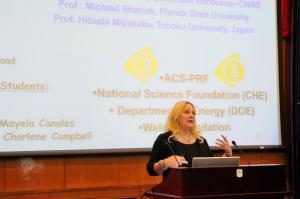 What is an honorary degree, and how can you earn one? According to Priceonomics (https://priceonomics.com/why-do-colleges-give-out-honorary-degrees/), honorary degrees have been awarded for more than 500 years. They are given to an individual for whom the usual requirements of attaining a degree are waived.
Kim Dunbar, a 1980 Westminster graduate, was given an honorary doctor of science degree in 2012 by Westminster College. Kim Dunbar is now the holder of the Davidson Chair of Science at Texas A&M University. She received her bachelor's degree in chemistry at Westminster College in 1980, and then went on to earn her Ph.D. at Purdue University.
"I received my Ph.D. in inorganic chemistry from Purdue University," said Kim  Dunbar. "However, years later, Westminster College, my alma mater, honored me with an honorary doctor of science degree. It was a gesture that deeply touched me."
How did Kim Dunbar join people like Oprah and Ruth Bader Ginsburg in receiving an honorary degree? She is renowned for her research in the fields of physical and inorganic chemistry. Kim Dunbar has made breakthroughs in several areas of study, including molecular magnetism and metal-based chemotherapy.
"I sincerely believe that my education at Westminster College provided me with the tools that I desperately needed to decide, first, what I wanted to think about and second, what I wanted to do with this information," Kim Dunbar said when she received her honorary degree. "My liberal arts education facilitated a desire to experiment: to explore entirely unknown territories without fear and with the confidence that questioning my own knowledge is not only a good idea but is absolutely necessary in order to be a good scientist and mentor."
Westminster College, located in New Wilmington, Pennsylvania, is located an hour north of Pittsburgh in the heart of Amish country. It was founded in 1852 with an affiliation with the Presbyterian Church. According to its website, Westminster is "proud of its heritage, and optimistic about its future. Serving the needs of students has enabled Westminster to become one of the nation's finest liberal arts colleges."
In addition to her study and breakthroughs, Kim Dunbar has authored more than 400 publications, including scientific articles, papers, reviews and book chapters. She served as the Associate editor of Inorganic Chemistry for many years.
This honorary degree was not the first time Kim Dunbar has been recognized for her achievements, however. She has been given distinguished alumna awards from Westminster College and Purdue University. She has also received an Alfred P. Sloan Foundation Fellowship, a Camille and Henry Dreyfus Teacher-Scholar award and numerous fellowships as well as a national American Chemical Society Award in 2015 and a Medal from the Chicago section of the American Chemical Society in 2019. She is a Fellow of the American Association for the Advancement of Science, the American Chemical Society and the Royal Society of Chemistry.